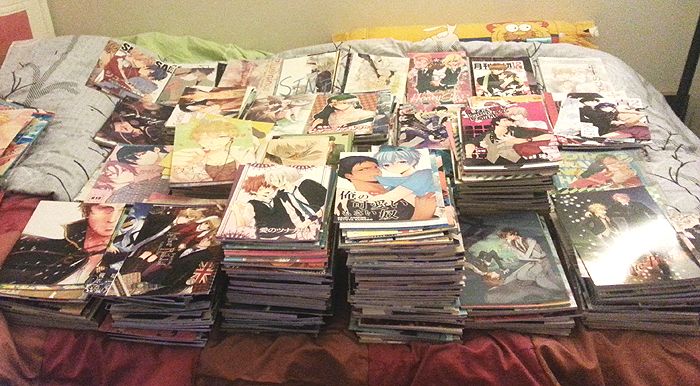 Currently, I have the following (English) Yaoi manga available for sale:
+ A Capable Man
+ A Strange and Mystifying Story v3
+ After I Win
+ Calling
+ Don't Rush Love
+ Hey, Sensei?
+ Love Control v1
+ Love Skit
+ Just Around the Corner
+ Mister Mistress v1
+ Ninth Life Love
+ Only the Ring Finger Knows (Novel) v1-3, 5
+ White Guardian
& the following series doujinshi available for sale:
[5] Ao no Exorcist - (Yukio/Rin, Shima/Rin)
[3] Code Geass - (Suzaku/Lelouch)
[12] Gintama - (Takasugi/Gintoki, Hijikata/Gintoki, Various/Gintoki)
[2] Gundam 00 - (Lockon/Setsuna)
[5] Kuroko no Basket - (Aomine/Kuroko, Kagami/Kuroko, GoM/Kuroko)
[8] Kuroshitsuji - (Sebastian/Ciel)
[2] Lucky Dog 1 - (Ivan/Gian, Luchino/Gian)
[9] Michiru Heya (by Nekota Yonezou/Komeya)
[4] Magi - Labyrinth of Magic - (Sinbad/Ja'far)
[3] Naruto - (Sasuke/Naruto) by acute girls
You can find them all here (Near the bottom of the page):
CLICK
FOR
:
[55]

Free!

- (HaruMako, SouRin, MakoRin, MakoRei, HaruRin, Mob/Makoto, Mikoshiba/Rin, NitoRin)
Please head over to:
CLICK01
[14]

Hetalia

- (USUK, FrUK, GerIta, SuFin, Prussia/Germany, Spain/Romano)
Please head over to:
CLICK02
[53]
Hitman Reborn
- (Gamma/Uni, Bel/Fran, Squalo27, 1827, 5927, 6927, Spanner27)
Please head over to:
CLICK03
[15]
Prince of Tennis
-

(Ohtori/Shishido, Chitose/Shiraishi, Various/Shiraishi,Shiraishi/Kenya, Zaizen/Kenya, Kenya/Zaizen, Kirihara/Yanagi, Kirihara/Niou, Yagyuu&Niou)
Please head over to:
CLICK05
[42]
Tiger & Bunny
- (
Barnaby/Kotetsu, Kotetsu/Barnaby
)
Please head over to:
CLICK04
Prices are
NEGOTIABLE!